You're in the right place if you…
Are allergic or hate the dirty air you inhale when you empty the dustbin of your robotic vacuum cleaner. 

Have pets or live in a large, busy house and are tired of frequently emptying the minuscule dustbin.

Want to free your hand or lazy around

.

Are looking for the best self-emptying floor robots.
Talking about the best self-emptying robot vacuums, here are quick and concise reviews of a few really good ones.
Eight of the best self-emptying robotic vacuum cleaners
Roborock s7 Plus
Roborock s7 Plus, featuring #1 on this list of the best self-emptying robotic vacuum cleaners, is well built and intelligently designed. As a result, it empties thoroughly, hygienically, and reliably.
Quite pricey though at a thousand dollars (bundle of the main unit and the base station). If you already own the s7 and are getting the dock as an add-on, without a deal you can expect to get it at around three hundred dollars.
What's more, the auto-empty dock of the s7 is a bagged system. While there are ongoing expenses on dust bags, the pair it ships with can hold up to four months worth of debris.
To recap, the Roborock s7 Plus is ideal if you…
Don't mind splurging/ongoing expenses on dust bags if it means improved air quality.

Live with pets in a large or multi-level home.

Are interested in a systematic and convenient cleaning.

Have mixed floors and want the mopping function.
Check it out: full review of the Roborock s7 self-emptying robotic cleaner
Ecovacs Deebot t8 Plus, Proscenic m7 Pro, or Shark IQ r1002ae
Next up on this list of the best self-emptying robot vacuums are the trio of the Ecovacs t8 Plus, Proscenic m7 Pro, and the Shark IQ rv1002ae.
So in a busy house with lots of dirt to vacuum–and/or if you want an advanced, feature-rich robot–any one of the Ecovacs t8 Plus, Proscenic m7 Pro, and the Shark IQ rv1002ae suffices.
Talking about the Ecovacs t8 Plus (there's the t8 and t8 aivi, follow this link for their comparison)–this is the answer to the prohibitive price of the Roborock s7 Plus. With the Ecovacs t8 Plus–while you'll be missing out on a couple of features (that you may not even need anyway; VibraRise, for one, especially if you have primarily hard floors)–you'll save a few hundred dollars you can use to purchase additional accessories like brushes, dust bags, or batteries.
Great but not flawless, there seem to be mapping/performance-related issues with the t8 Plus, which is an area the Proscenic m7 Pro self-emptying robot boasts significant improvement. That, and it vacuums and mops. If you don't have pets (or have a few that don't shed as much), the m7 Pro is a perfect choice considering it's even cheaper.
Shark IQ self-emptying robot is another budget buy and one that particularly makes sense if you have plenty of pets as its extraction port is well designed to allow for thorough evacuation while preventing clogging. Also, it's the one to get if you don't have mopping requirements. It's at least two hundred dollars less than the Ecovacs t8 Plus, and about half the price of the Roborock s7 Plus. On top of that, its emptying station doesn't use bags–it instead uses a canister that can hold up to a month's worth of dirt. While economical, being a bagless model, the hygiene part may be lacking, especially for people with allergies. Also, the Shark auto-empty bot isn't as feature-rich or easy to use.
Related: shark IQ av1002 auto-empty robot vacuum review
iRobot self-emptying floor robots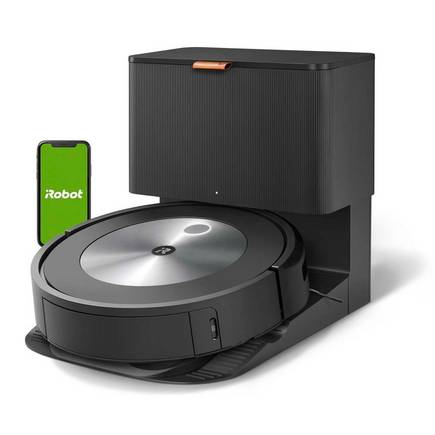 The iRobot line of robots rounds up this list.
i3 Plus and i7 Plus are options available in the i-series. s9 Plus represents the s-series. j7 Plus is standing in for the j-series. Plus in their names indicate they're self-emptying models. 
Featuring different base designs, self-dumping methodology/mechanics remain the same. Hence, the decision to merge them into one review.
Without mincing words, the cleaning docks of the i3 Plus, i7 Plus, and the s9 Plus work reliably well. 
The first thing of note is that the Roomba self-cleaning robots have the full bin and dirt detect sensors for preventing bin overflow, maintaining peak performance, and prolonging the useful life of–and ultimately saving you money on–parts like filters and brush rolls.
Then, there's the suction power of their clean tower which does enough, clearing all the crud and pet hair out of the smaller dustbin while keeping the same tightly contained in the onboard non-reusable bag. Two bags, estimated to hold about thirty runs of dirt, ships with a package of any of the j-, i-, or s-series of the Roomba. Additional dirtbags are available at around $5 a bag assuming you're buying directly from iRobot. There are cheaper knockoffs, though, that work just as well.
Sequel to the effectiveness of the self-cleaning function, iRobot stands behind its product. Like most items with mechanical parts, although far and in between, there have been reports about the base of the i7 Plus and the s9 Plus failing to evacuate or the disappearance of the clean button in the app. iRobot provides helpful tutorials (like this one…Here's another one) for basic troubleshooting. If those don't work, iRobot customer support takes over. If there's no headway still, iRobot may send out a replacement. While the dock of the i3 Plus and i7 Plus are interchangeable, the docks of the j7 Plus and s9 Plus AREN'T.
With an emphasis on the auto disposal bin, there are a few details (features, hardware, design, software, etc.) about the j, i, and s Roomba models that could influence pricing and performance, or that might be of interest. 
s9 Plus, for example, and the most expensive in the line at over a thousand bucks (the main unit the s9 at around $800 and the self-emptying dock at around $399) has 40× the suction power of any Roomba and is one of the best airflow numbers in the industry (22 cfm) for carpet deep cleaning, plus a D-shape design for better coverage in corners and along walls. 
The j7+'s front vision is helpful in a cluttered home with kids and pets that are prone to accidents.
The i7+ selling at around $800 (the main unit the i7 at around $600 and the self-emptying dock at $299) in addition to its auto-evacuate function has a more advanced camera-guided navigation, smart mapping, alongside other functions to include area cleaning, multiple floor mapping, no-go zone, and room cleaning. The Roomba i7 self-emptying robotic floor cleaner is the closest you'll get to the more expensive s9 Plus in terms of cleaning power. Not to mention it's been extensively tested compared to the newly released j7 Plus.
The i3+ on the other hand, for a few hundred dollars less, uses the inferior Gyroscope for routing and as such doesn't support smart mapping. It is the most reliable of all though since it uses less complicated tech.
Conclusion
Maybe you missed it, but while your ultimate choice will depend on your needs as highlighted in the reviews, the Roborock s7 Plus is my pick as the best self-emptying robot vacuum due to its consistency and excellent, convenient, and hygienic cleaning and emptying.
Alternatives include the Deebot t8 Plus, Proscenic m7 Pro, Shark IQ r1001ae, Roomba i3 Plus, etc. I recommend you check their reviews to familiarize yourself with their offerings/best use cases, which should help you maximize value on your purchases.
While the external bin of most self-emptying robots had been built to completely clear the internal, onboard dustbin–some debris, in particular long pet and human hair, may occasionally get left behind. The suction power and design of the bigger bin can be argued. From experience, self-emptying bins of the Roomba and the Roborock have reduced tendencies, and as previously mentioned, this happens mostly with large debris and with hair vacuuming situations. Currently, all robots are susceptible to incomplete evacuation. Improvements can be made via an update but until then your best bet would be to vacuum more regularly–or with a certain Proscenic, via its app, you can command a re-evacuation.
One last thing, dirtbags aren't meant to be reused. While there are knock-offs on Amazon and some other places online, the self-emptying base of any robot vacuum will only work with the model it's advertised with.
Further Reading